Quotation from Gopi Krishnas' book "Living with Kundalini"
Posted by

Marja
2013-02-22 18:44
, author
Marja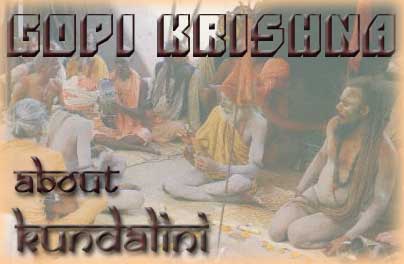 "It is a grave error to suppose that the arousal of kundalini can be achieved with impunity by anyone who applies himself to the discipline. The popular idea that the practices result simply in the activation of a new force in the body is fallacious. Those who believe that the arousal and mastery of the force can be achieved by one's willful effort alone live in a paradise of fools. Properly speaking, the position has to be viewed the other way round. It is actually the pressure exerted by the slowly opening supersensory channel in the brain on one's mind which acts as the root of the religious impulse, driving one to seek expedients to satisfy the longing.
It is not a little more calmness or relaxed condition of the mind nor a little more creative ability nor a feeling of euphoria nor visionary experiences nor a little more efficiency in work that determines whether or not a transformation in consciousness has occurred in an individual. Rather, it is a complete metamorphosis of the personality that points to it.
The craziness of religious mania is similar to the eccentricity and madness of genius. Only the aberration takes a different form. It is only the highest luminaries, comparatively speaking, who have been free from it. Excessive penance, horrible self-mortification, utter seclusion, denial of love, renunciation of the world and family, abnormal ways of life and behavior, quaint appearance and dress are all part of this mania.
Unless the mind has been disciplined from an early age, a stimulated kundalini brings with it an irrepressible desire for the occult and the bizarre. It is incredible to what extent the victims of this desire can be duped by pseudo-Godmen, charlatans and impostors...In my own lifetime, one of these Godmen, residing in a village in Kashmir, used to urinate into a silver vessel in full view of the crowds that came to visit him and then sprinkled the liquid over the audience, both men and women. It is even said that his admirers held up their faces and uncovered their bosoms to receive the sanctifying drops.
The need for a highly balanced and regulated life, as a prerequisite for cosmic consciousness, was recognized in India from very early days. The emphasis of all great religions on a chaste, consecrated life stems from the same necessity.
The awakening may be gradual or sudden, varying in intensity and effect according to the development, constitution, and temperament of different individuals; but in most cases it results in a greater instability of the emotional nature and a greater liability to aberrant mental conditions in the subject, mainly resulting from tainted heredity, faulty modes of conduct, or immoderation in any shape or form.
It seemed as if I had abruptly precipitated myself from the steady rock of normality into a madly racing whirlpool of abnormal existence. The keen desire to sit and meditate, which had always been present during the preceding days, disappeared suddenly and was replaced by a feeling of horror of the supernatural. I wanted to fly from even the thought of it. At the same time I felt a sudden distaste for work and conversation, with the inevitable result that being left with nothing to keep myself engaged, time hung heavily on me, adding to the already distraught condition of my mind.
The nights were even more terrible. I could not bear to have a light in my room after I had retired to bed. The moment my head touched the pillow a large tongue of flame sped across the spine into the interior of my head. It appeared as if the stream of living light continuously rushing through the spinal cord into the cranium gathered greater speed and volume during the hours of darkness. Whenever I closed my eyes I found myself looking into a weird circle of light, in which luminous currents swirled and eddied, moving rapidly from side to side. The spectacle was fascinating but awful, invested with a supernatural awe which sometimes chilled the very marrow in my bones.
I seemed to have touched accidentally the lever of an unknown mechanism, hidden in the extremely intricate and yet unexplored nervous structure in the body, releasing a hitherto pent-up torrent which, impinging upon the auditory and optic regions, created the sensation of roaring sounds and weirdly moving lights, introducing an entirely new and unexpected feature into the normal working of the mind that gave to all my thoughts and actions the semblance of unreality and abnormality.
For weeks I had no respite. Each morning heralded for me a new kind of terror, a fresh complication in the already disordered system, a deeper fit of melancholy or more irritable condition of the mind which I had to restrain, to prevent it from completely overwhelming me, by keeping myself alert, usually after a completely sleepless night; and after withstanding patiently the tortures of the day, I had to prepare myself for even worse torment of the night.
A man cheerfully overcomes insurmountable difficulties and bravely faces overwhelming odds when he is confident of his mental and physical condition. I completely lost confidence in my own mind and body and lived like a haunted, terror-stricken stranger in my own flesh, constantly reminded of my precarious state. My consciousness was in such a state of unceasing flux that I was never certain how it would behave within the next few minutes. It rose and fell like a wave, raising me one moment out of the clutches of fear to dash me again the next into the depths of despair.
It seemed as if the stream of vitality rising into my brain through the spinal cord, connected mysteriously with the region near the base of the spine, was playing strange tricks with my imagination. Also I was unable to stop it or to resist its effect on my thoughts. Was I losing my mind? Were these the first indications of mental disorder? This thought constantly drove me to desperation. It was not so much the extremely weird nature of my mental condition as the fear of incipient madness or some grave disorder of the nervous system which filled me with growing dismay.
No one could even suspect what was happening to me inside. I knew that but a thin line now separated me from lunacy, and yet I gave no indication of my condition to anyone. I suffered unbearable torture in silence, weeping internally at the sad turn of events, blaming myself bitterly again and again for having delved into the supernatural without first acquiring a fuller knowledge of the subject and providing against the dangers and risks of the path.
I did not know then what I came to grasp later on--that an automatic mechanism, forced by the practice of meditation, had suddenly started to function with the object of reshaping my mind to make it fit for the expression of a more heightened and extended consciousness by means of biological processes as natural and as governed by inviolable laws as the evolution of species or the development and birth of a child.
Whenever my mind turned upon itself I always found myself staring with growing panic into the unearthly radiance that filled my head, swirling and eddying like a fearsome whirlpool; I even found its reflection in the pitch darkness of my room during the slowly dragging hours of the night. Not infrequently it assumed horrible shapes and postures, as if satanic faces were grinning and inhuman forms gesticulating at me in the darkness.
...There was a sound like a nerve thread snapping and instantaneously a silvery streak passed zigzag through the spinal cord, exactly like the sinuous movement of a white serpent in rapid flight, pouring an effulgent, cascading shower of brilliant vital energy into my brain, filling my head with a blissful luster in place of the flame that had been tormenting me for the last three hours. Completely taken by surprise at this sudden transformation of the fiery current darting across the entire network of my nerves only a moment before, and overjoyed at the cessation of pain, I remained absolutely quiet and motionless for some time, tasting the bliss of relief with a mind flooded with emotion, unable to believe I was really free of the horror. Tortured and exhausted almost to the point of collapse by the agony I had suffered during the terrible interval, I immediately fell asleep, bathed in light, and for the first time after weeks of anguish felt the sweet embrace of restful sleep.
In the case of a sudden, powerful arousal of the Serpent Power, the utmost care has to be taken of the following: (1) the state of mind, (2) the intake of food, and (3) erotic behavior. The will must have been already cultivated to exercise control over the now chaotic state of the mind. Like the pendulum of a clock, it oscillates between hope and fear, anxiety and assurance, joy and sorrow, for no apparent reason, as if pushed from this side to that and back again by an invisible force from within in a manner entirely unpredictable to the subject of the experience. If the will is not firm and lacks the strength to hold itself in check, the oscillations can lead to those irresponsible acts which are a characteristic of mental disorder.
There was no diminution in the vital radiation which, emanating from the seat of kundalini, sped across my nerves to every part of the body, filling my ears with strange sounds and my head with strange lights, but the current was now warm and pleasing instead of hot and burning, and it soothed and refreshed the tortured cells and tissues in a truly miraculous manner.
I was in an extraordinary state: a lustrous medium, intensely alive and acutely sentient, shining day and night, permeated my whole system, racing through every part of my body, perfectly at home and absolutely sure of its path. I often watched the marvelous play of this radiant force in utter bewilderment.
What made me hesitate in according publicity to it is the unique nature of the phenomenon; it neither falls in line with the known manifestations observed in mediums, nor does it seem similar in kind to the recorded experience of any known mystic or saint, Eastern or Western. Its peculiarity lies in the fact that, in its entire character, the phenomenon represents the attempt of a hitherto unrecognized vital force in the human body, releasable by voluntary efforts, to mold the available psychophysiological apparatus of an individual to such a condition as to make it responsive to states of consciousness not normally perceptible before.
I was now a spectator of a weird drama enacted in my own body in which an immensely active and powerful vital force, released all of a sudden by the power of meditation, was incessantly at work and, after having taken control of all the organs and the brain, was hammering and pounding them into a certain shape. I merely observed the weird performance, the lightning-like movements of the lustrous intelligent power commanding absolute knowledge of and dominance over the body.
I do not know how it happened that, even in that extremely abnormal state of my mind, needing constantly the application of new measures to adapt it to changing circumstances, I often hit upon the right procedure to deal with unexpected and difficult situations arising in my day-to-day contacts. If I had even so much as hinted to colleagues a word about my abnormality and the bizarre manifestations which were now a regular feature of my life, I might have been labeled a lunatic and treated accordingly.
To the frivolous inquiries directed to gathering more information about my experience, I usually turned a deaf ear, maintaining a reserve which has continued to this day. Failing to gain satisfaction for their curiosity and finding no remarkable change in me, the story of my spiritual adventure was treated as a myth, and to some I even became an object of ridicule for having mistaken a physical ailment for a divine dispensation.
From a unit of consciousness, dominated by the ego, to which I was habituated from childhood, I had expanded all at once into a glowing conscious circle, growing larger and larger, until a maximum was reached, the "I" remaining as it was, but instead of a confining unit, now itself encompassed by a shining conscious globe of vast dimensions...Speaking more precisely, there was ego consciousness as well as a vastly extended field of awareness, existing side by side, both distinct yet one.
An ordinary man in a humble walk of life, burdened with responsibilities, as I always have been and think myself to be, I never allowed any false idea about myself to take root in my mind after the new development. On the other hand, my absolute helplessness before the lately manifest power in me had the effect of humbling what little remnant of pride I still possessed."
Written by: Gopi Krishna
Read other books about Kundalini
258 visningar